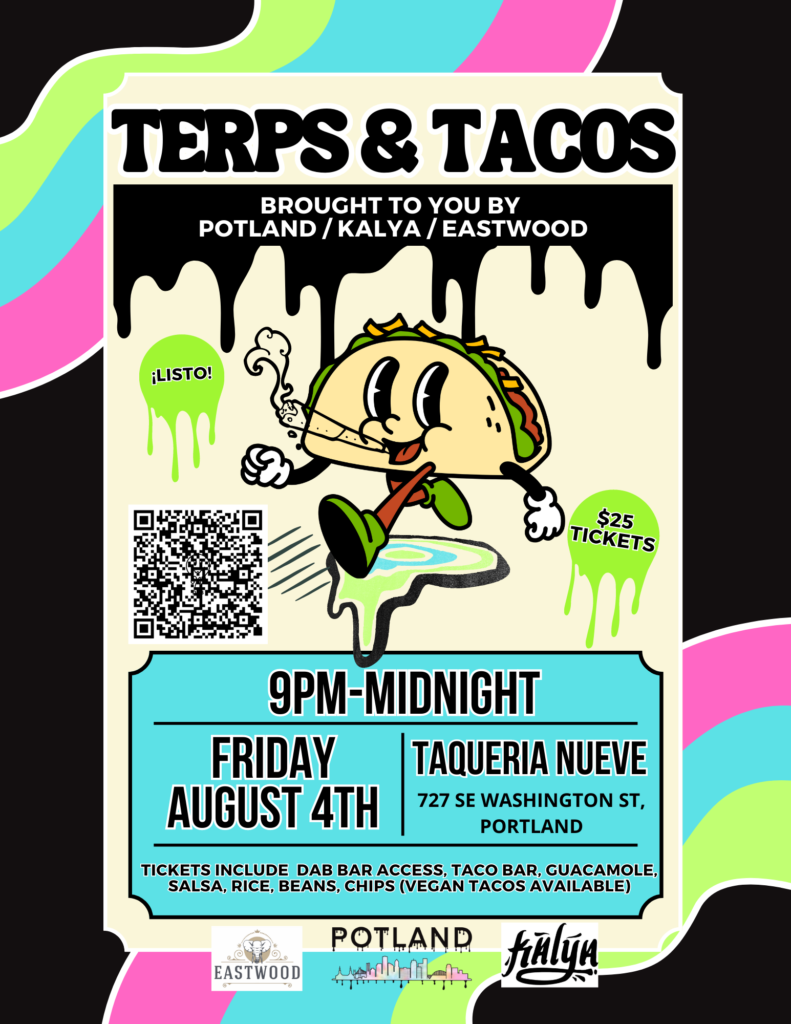 Potland Dispensary, Kalya Extracts, and Eastwood Gardens are teaming up to present an extraordinary event: "Terps and Tacos." Get ready for an immersive experience that combines the finest cannabis products and mouthwatering tacos, all in one place.
Date: August 4th, 2023
Time: 9pm-12am
Location: Taqueria Nueve, 727 SE Washington St, Portland, OR 97214
Ticket Price: $25 per ticket. 
Join us for Terps and Tacos, an exceptional event celebrating cannabis culture, gastronomic delights, and community engagement. Come together with Potland Dispensary, Kalya Extracts, and EastWood Gardens as we create unforgettable memories in a welcoming and inclusive environment. Grab your tickets now, and let's make this a day to remember!
Cannabis Showcase: Discover a diverse range of high-quality cannabis products brought to you by Potland Dispensary, Kalya Extracts, and Eastwood Gardens. Whether you're an experienced cannabis enthusiast or a newcomer, this event will provide something for everyone.
Taco Delights: Treat your taste buds to an array of delectable tacos, creatively prepared with various fillings and flavors. Sides included: Beans, Rice, Chips, Guacamole, and salsa! Vegan tacos available!
All attendees must be at least 21 years old, and a valid ID will be required for entry. Consumption of cannabis products at the event is permitted only in designated areas, following local laws and regulations.
Get your tickets now https://www.eventbrite.com/e/terps-tacos-tickets-681994693487